Leena Pukki
Leena Pukki (b.1984) is a visual artist who is interested in interspecies relations, history, alternative realities, cultural hegemonies, colors, single-celled organisms and different spaces. Pukki's techniques vary from media art to large scale mural painting and installation.
She received her MA from the Aalto University School of Art and Design in 2015 and BA from Lahti University of Applied Sciences Art Institute in 2007.
Pukki is a founding member of artist group Route Couture (2008-) and member of MUU ry. (a national interdisciplinary art organisation that represents and promotes new media art in Finland), AV- Arkki (The Center for Finnish Media Art) and Kuvasto (Finnish copyright society for artists working in the field of visual arts). She is also member of Miracle Workers Collective, that represented Finland in the Venice Biennale 2019.
Pukki is Chair of the Board of Cultural Co-operative Makasiini and member of board of Kiila ry and Mimmit ry. She lives and works in Helsinki, Finland.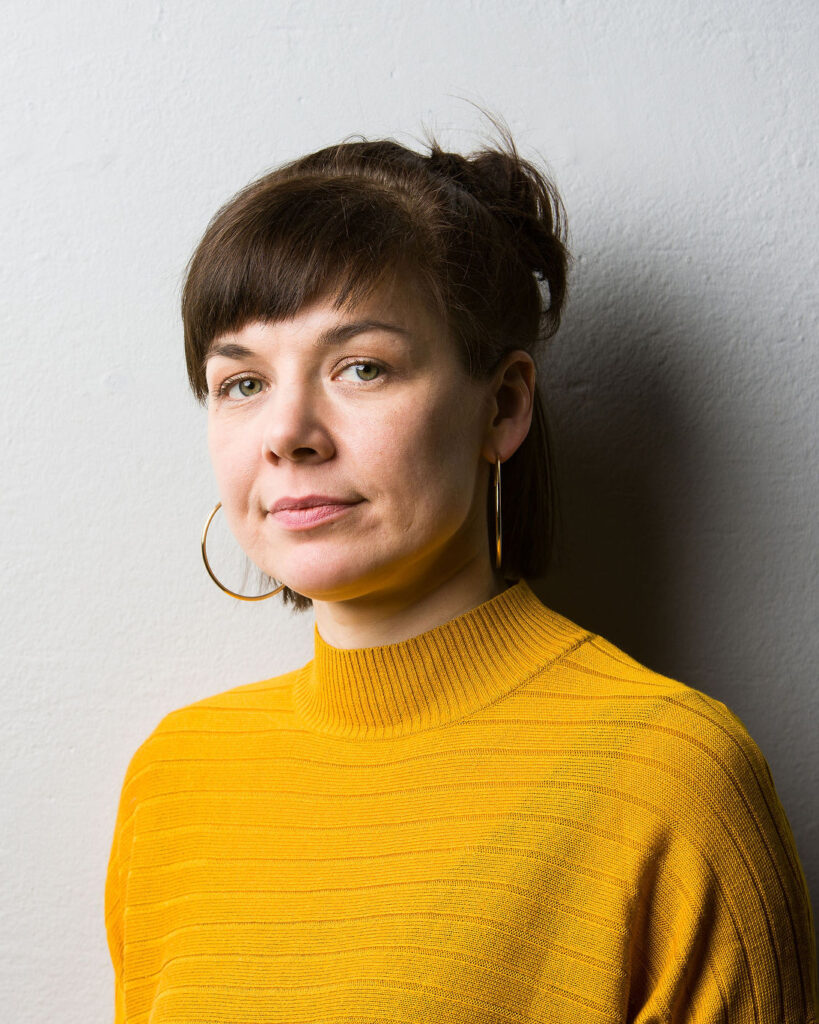 CV
EDUCATION
2011-2015
MA, Aalto University School of Arts, Design and Architecture, Helsinki. Master's Programme in Fine Arts.
2014
Pontifícia Universidade Católica do Rio de Janeiro, Departamento de Artes & Design (student exchange)
2003-2007
BA, Fine Arts, Lahti University of Applied Sciences, Institute of Fine Arts. Lahti.
2006
Kunsthochschule Berlin-Weissensee, Berlin, Germany (student exchange)
2000-2003
Savonlinna Senior Secondary School of Art and Music
SELECTED JURIED AND CURATED EXHIBITIONS
2021
Island of Empathy, HAA-gallery, Helsinki
Pixelache Festival 2021 #Burn, Central Library Oodi, Helsinki
2020
Nytkäys, Lappeenranta Art Museum
2019
A Greater Miracle of Perception, Miracle Workers Collective. Finnish Alvar Aalto Pavilion at the 58th International Art Exhibition – La Biennale di Venezia.
Young Artists 2019, Kunsthalle Helsinki
SOLO EXHIBITIONS
2022
The Culture of the Female Bear, Gallery Huuto, Helsinki
2021
Inside Another Skin: Deep Diving, Central Library Oodi's media art space Kuutio, Helsinki (with Karoliina Paappa)
Inside Another Skin, Gallery Rajatila, Tampere (with Karoliina Paappa)
2017
Normality, KOUTA gallery, Kouvola
2015
Squirrell wants to cut down the railway and other stories, Gallery Emil, Tampere
2014
Route Couture, Craft Museum of Finland, Jyväskylä
2009
Siipeilijät, Gallery Rajatila, Tampere
2009
Remains, Gallery 3h+k, Pori
SCREENINGS
2022
Uppsala Short Film Festival, Deliciously Disgusting! Uppsala, Sweden
Fredrikstad Animation Festival, Nordic-Baltic Competition: Short Film. Fredrikstad, Norway
Minikino Film Week 8, Bali International Short Film Festival, Denpasar, Bali, Indonesia
Animatrix, Experimental competition, Helsinki, Finland
International Short Film Festival Oberhausen, AV-arkki's distributors' screening, Germany
Internationales Frauen Film Fest Dortmund + Köln, Parts of the Whole, Köln, Germany
2021
Kyiv International Short Film Festival
Tampere Film Festival, Liikkumatilaa- screening, Tampere, Finland
2020
Pleasure Dome/ Skin Deep, Toronto, Canada
This Is How We Walk on the Moon, Gallery Titanik, Turku, Finland
2019
Pori Art Museum, Rappu screening program
WORKS IN COLLECTIONS
Finnish State Art Deposit Collection
AWARDS, STIPENDS
2019
The Maecenas Guild's young artist prize, From an exhibition Young Artists 2019, Kunsthalle Helsinki
2015
Academic Excellence Award, Aalto University, MA Program in Fine Arts
2010
Stipend for Professional Artists, City of Tampere.
2009
Stipend for Young Artists, Tampereen Saskiat ry.
PUBLIC COMISSIONED MURALS
2022
Dreams, Taavetti school, Luumäki.
2019
Kis kis kissamies, Kirkkokatu, Lappeenranta.
What did you see while flying?, Kempele, Baana.
2016
Meeting (From the series Utopia), Garikula, Akhalkalaki, Georgia. Fest I Nova art festival
PUBLICATIONS
2019
Leena Pukki and Sonya Lindfors: Future Poet. In Miracle Workers Collective: A Greater Miracle of Perception, Archive Books 2019.
2017
Leena Pukki, Karoliina Paappa, Stina Riikonen and Lari Lätti: Route Couture. Into kustannus 2017. Edited by Leena Pukki and Karoliina Paappa